Up to O&C
"Noise – King of Swag"
Total Cards: (46)
Identity:
1x
Noise: Hacker Extraordinaire (Core)
Event: (12)
3x
Deja Vu (Core)
3x
Inject (Up and Over)
3x
I've Had Worse (Order and Chaos)
3x
Sure Gamble (Core)
Hardware: (6)
2x
Clone Chip (Creation and Control)
■■ ■■ ■■
2x
Grimoire (Core)
1x
Plascrete Carapace (What Lies Ahead)
Program: (22)
3x
Cache (The Spaces Between)
■ ■ ■
2x
Crypsis (Core)
2x
D4v1d (The Spaces Between)
3x
Datasucker (Core)
3x
Imp (What Lies Ahead)
1x
Incubator (The Source)
2x
Medium (Core)
2x
Mimic (Core)
1x
Nerve Agent (Cyber Exodus)
3x
Parasite (Core)
Resource: (6)
3x
Aesop's Pawnshop (Core)
■■ ■■
1x
Hades Shard (First Contact)
■
1x
Kati Jones (Humanity's Shadow)
1x
Sacrificial Clone (Order and Chaos)
1x
Utopia Shard (All That Remains)
■
"Battle of the Absolute Defence Line"
Deck Created with
CardGameDB.com Android: Netrunner Deckbuilder
Total Cards: (49)
Identity:
1x
The Foundry: Refining the Process (The Spaces Between)
Agenda: (11)
1x
Domestic Sleepers (Upstalk)
3x
Accelerated Beta Test (Core)
1x
Efficiency Committee (Creation and Control)
3x
NAPD Contract (Double Time)
3x
Project Vitruvius (Cyber Exodus)
Asset: (7)
3x
Adonis Campaign (Core)
1x
Aggressive Secretary (Core)
3x
Jackson Howard (Opening Moves)
■ ■ ■
ICE: (17)
2x
Architect (Up and Over)
3x
Eli 1.0 (Future Proof)
2x
Ichi 1.0 (Core)
1x
Mother Goddess (Upstalk)
3x
NEXT Bronze (Opening Moves)
3x
NEXT Silver (Upstalk)
3x
Wormhole (Order and Chaos)
■■ ■■ ■■
Operation: (14)
3x
Biotic Labor (Core)
3x
Hedge Fund (Core)
3x
Peak Efficiency (Up and Over)
1x
Reclamation Order (Double Time)
2x
Successful Demonstration (Creation and Control)
2x
Trick of Light (Trace Amount)
■■■ ■■■
Before the event:
Sadly only 6 people showed up, including 2 of my team mates, meaning an anti-climatic 3 rounds with no cut, never the less the show must go on, and the guy running the event was fantastic, with a fantastic venue, really is a shame more people didn't come.
The sound of feet stomping and laserquest upstairs set the stage....
Part the first: Amric
Vs Noise.
Amric was sporting everyone's favorite runner Mr Ji Riley, he said before the game he only just started playing and honestly it showed (not meaning that in a mean way), doing things like grabbing Acct siphon back without enough creds to get through rezzed ice, spending forever clicking to clear tags he'd amassed with a double siphon and moving counters from Virus breeding grounds to hivemind when all he had out was datasucker with 15 counters on, foundry just quick scored it's way to victory with Amric stealing an NAPD and sleepers.
Vs PE.
Ah PE, how I love you, sadly Amric didn't realize TFP doesn't sheild itself when installed and conceded some early points, clone chipped parasites made light work of his ice too tin order exploit servers he tried to score from. A marker -> katana over RnD was a small problem (but I've had worse*.) Finding the mimic got me through that, eventually noise just found the gold he dug for and took the game. I did install clone this game as I was terrified of getting ronined from nowhere.
(How often is this in play?)
4 Prestige
After the game me and Amric chatted and I have him some advice on how he should of played things (he asked for said advice), he was a cool guy and I hope he sticks with the game.
Part the Second: Jordan
Ah Jordan, my team mate, the guy I said made non-eculdian lovecraftian horrors of a deck, I was looking forward to this, my sanity not so much.
Before the event me and jordan exchanged in some light banter over FB.
Vs Whizzard.
Well I need to protect andonis, that slowed my credit gain down, he played the long game with david letting me rez next ice so he could sneak in, tect proved too much for Cuj.o to constantly handle and an agressive sec set to 2 threw him back light years and allowed me to score out. His hemmorage play put such pressure on my hand, if I wasn't able to rush out Project Virtivus with 2 counters early doors that would of been a very different game
Vs PE.
Jordan's pride and joy, the Sword of Damocles, was pretty evenly matched, losing my hand early to the big dog didn't help (but heh I've had worse
*) his early doors mushin advance scared the hell out of me, but I decided to let him keep it if it was anything of consequence like an agenda was slightly scared of Ronin kill still. I ran archives through yagura to see TFP which I failed to steal, parasite and run again milled a fetal he kept on top (his hand was safe and he took the risk), winning the psi game this time and having enough to pay for fetal to win the game, very close game though. I learnt this game if I install asoeps before I run I dont have ti DJV it back to install it, silly Cj....>.>
8 Presitge
Part the Third: Dean
Dean I've played before, he mentioned he had very bad memories of Noise, I have no idea what he could mean.
Vs Tennin
. Dean did an excellent job of locking me out of everywhere early, the parasite on his icewall meant nothing when tennin could just match it, his remote of inazuma and toll was a pain, but D4V1d came to the rescue stealing some agendas to even the score, selling the dead ones to DJV, and he tried to end the run with MK2 just for me to do it again, he finally installed turret on his remote and blew up the d4v1d I just brought back for the 2nd time, both on 6 points now, he on 1 cred, knowing I had to make a successful run or he'd likely win.(tennin adv, click for money, double adv.) I ran archives through a 'tect, let it fire then blew utopia shard sniping an agenda from his hand to snatch the win. Noise got lucky this time IMO, I should not of won this game.
Sorry Aleta, D4V1D upstaged your ability to come back from the dead.
I also had the best inject this game: Cache x3 and IHW. Thanks inject you had 1 job.
->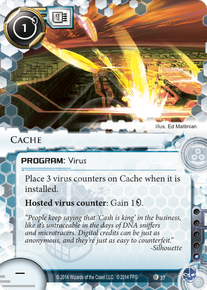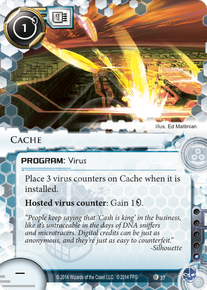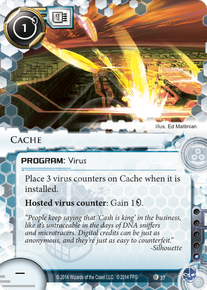 (Inject can be such a troll)
Vs Andy
.
This andy deck was so cool, early doors motivation and orcale may give him a metric f**k ton of credits, seriously like he had about 6 5s in his pool at one point, I layered ICE all over RnD (wormhole, ichi, eli, next silver, next bronze, ichi, I think it was at the end) and scored an early sleepers and pumped it, spending 6 to sneakdoor through wormhole eventually made him poor and I quick scored beta tests and eventually just needed to draw the agenda to trick on to. Peeks brought me back from broke gaining me 9 each and Jackson after a tect trigger shuffled the agendas away he would of seen.
Edit: As Dean just reminded me what probably swung the game was him insiding jobing into an agg sec with 1 counter and losing his killer, while my sentry ICE doesn't end the run it meant Tect and ichi were a massive threat once again. TBH the reason I hit garrote was because it was his most expensive breaker for him to reinstall. I was even saying "I must mention that play" on the train home then forgot, curse you memory.
(Please come into my parlor)
12 Prestige.
Closing thoughts.
Little dissapointed only 6 people showed up but as I said, the show must go on and a win is a win
, next week me, Matt and Jordan are doing 2 back to back events and writing a joint report on them so stay tuned for that.
. As always thanks to my opponents for some great games and for the venue for running it, I hope they don't get discouraged to run events in the future. I'm working off memory after some post event drinks so if my write up seems brief I do apoligise. (pretty sure I recall the highlights correctly which I've listed).
As always, keep running my friends.
(in it's place in my corner cabinet with a glass door....aka trophy case
)
--
NB: The place was LaserZone in bradford which had some rather rare packs...
* Not dissing opponents play, just saying IHW triggered and brought me back to cards in a joking way.
Edit: I need to hire a proof reader.