So this Sunday, Proud Lion, the Cheltenham store hosted a Draft tournement running the Cyber War draft set. It was a nice small event, behind locked doors as the store was closed on the day, and the format was really enjoyable to play in. We all drafted our corps deck first, followed by our runner decks. This was thought to be the best way for us all to understand what cards would be necessary to understand what our Runner decks will need to deal with!
Corporation Deck + Spare Draft Cards
Robot Advertisement Assassins

The Shadow: Pulling the Strings

Agenda (6)

1x Fetal AI

1x Nisei MK II

2x Priority Requisition

1x Project Beale

1x Project Vitruvius

Asset (9)

1x Adonis Campaign ••

2x Dedicated Response Team ••••• •

1x Edge of World ••

1x Eve Campaign •••

2x Melange Mining Corp.

2x PAD Campaign

Upgrade (1)

1x Corporate Troubleshooter •

Operation (4)

1x Archived Memories ••

1x Closed Accounts •

1x Neural EMP ••

1x Shipment from MirrorMorph ••

Barrier (2)

1x Eli 1.0 •

1x Heimdall 1.0 ••

Code Gate (5)

2x Pop-up Window ••

2x Sensei ••

1x Viktor 1.0 ••

Sentry (6)

1x Caduceus ••

2x Data Raven ••••

2x Dracō

1x Rototurret •

Other (1)

1x Chimera

37 influence spent (max ∞)

14 agenda points (between 14 and 15)

34 cards (min 30)

Cards up to Future Proof
Deck name was influenced by one of my opponents comments in my first game (More on this later). I think I got really lucky with what I drafted to build a deck with, I saw a Data Raven really early, which having played against Chimpster's Tagstorm deck enough times to know it was a great piece of taxing ice. Later I found the first DRT, and decided to take it in the hopes I'll draft 1 or 2 more, and with some luck I got another copy. I decided to try and build a tag & bag deck/glacier deck, though I didn't have as much tag punishment as I would like. The agenda mix up was quite good too, as I was only running two 3 pointers, I didn't have to worry as much about them being stolen and losing the game from 2 random accesses (Draft only runs to 6 points rather then 7). I'd have liked to see more Operations/useful operations, but I couldn't have it all.
My spare cards from the draft were the following. Would like to hear your thoughts on if you would have made any changes!
3x Priority Req
1x Corporate War
2x Fetal AI
1x TMI
2x Shadow
1x Sensei
1x Chum
1x Security Subcontract
1x Midori
Runner Deck + Spare Draft Cards
The Masque: Cyber General

Event (6)
2x Easy Mark ••
2x Sure Gamble
2x Test Run ••••• •

Hardware (7)
2x Cyberfeeder ••
1x Grimoire ••
3x Rabbit Hole •••
1x The Personal Touch ••

Resource (9)
2x Aesop's Pawnshop ••••
2x Armitage Codebusting
3x Underworld Contact
2x Wyldside ••••• •

Icebreaker (7)
2x Crypsis
1x Femme Fatale •
1x Force of Nature •
1x Morning Star ••••
1x Ninja ••
1x Peacock ••

Program (1)
1x Magnum Opus ••

39 influence spent (max ∞)
30 cards (min 30)
Cards up to A Study in Static
So all in all, I was happy with my runner deck too. After drafting a single aesops, I decided to grab the two wildsides that were floating around the table, and then I was lucky enough to grab a 2nd aesops! Between this, the Rabbit Holes + Underworld Contact, plus a singleton Opus I could tutor for with Test Runs, I was very happy with my econ, especially as I had some decent operations to back it up. The breaker suit I took was just making use of what I had available, unfortunately the only barrier breaker I'd picked up was a Morning Star (though in hindsight it turned out to be a power house). Femme is never a bad idea, and as the draft set gives everyone 2 copies of Crypsis, I threw them in as a backup.
Spare Cards for the runner are as follows, again wouldn't mind hearing other people's opinion!
2x Force of Nature
1x Deep Thought
1x Demolition Run
3x Cortez Chip
1x Dinosaurus
1x Lemuria Codecracker
1x Armitage Codebusting
1x Data Leak Reversal
1x New Angeles City Hall
1x Xanadu
1x Data Dealer
Game One - Andy
First game of the day, and I was really looking forward to seeing what if what I'd put together was going to hold up to the plan I had in my head. I flipped a bad pub token, and lost the toss, so I was running first. I managed to get a wyldside down turn 2 or 3, and starting setting up my econ rig. I test ran for Opus, and realised I only had two clicks to take money (And 3 without the install/test run). Once my drip econ was setup as well, and an Aesops was down on the table, I sold my Wyldside and decided to put more pressure on the board. So far I'd seen an Eli over R&D, but unfortunately my Morningstar had been discarded earlier in the game! Instead I paid 9 credits for a femme, and kept bypassing it to get more accesses off R&D. Ignored most of what I hoped were traps, but did take some brain damage before stealing the winning agenda off of R&D.
Next up it was time to put my Corp Server's through their paces! The first turn consisted of installing Viktor over R&D, a pop up over HQ, and either Adonis or Pad in a new server. First runner turn saw me rezing my ice, so unable to rez the econ asset, so my second turn consisted of installing a 2nd econ asset and taking money. Over the next few turns I setup a remote ready to score, and Andy stole a Priority Req from HQ.I threw a melange into the scoring remote to make me some money. and installed some Data Ravens over the remote and R&D. Once andy lost money hitting R&D & my scoring server to trash the melange, I scored a Fetal AI. At this point, Andy was playing full Tag Me, and I had floating tags and power counters on my Data Raven on R&D. I drew up into a DRT, and decided to draw for another. Andy took the time to make some money, as I'd built R&D into a nice big taxing server even if he was ignoring the Data Raven. I install both DRTs, and pass the turn to Andy, where he proceeds to run R&D with a 4 card hand. Andy broke all the routines on my ice, except for the single brain damage on Viktor, after confirming that Andy was going to access R&D, I rezzed both DRTs. It came down to a single access - If andy pulled the 2nd Prio Req, game went to him. If it was anything else, my unfortunate foe would take multiple sniper rounds to the face. Baited breath and a revealed card, gave me the win. Unfortunately my elation gave the game away to everyone else around the room, so I couldnt suprise anyone else for the rest of the day.
It was during this game that it was pointed out I was running HB Sexy advert robots, and my assassin team kill shot, that I got the deck name
Current score, 2-0
Game Two- Dave/Cerberus
If I'm honest, I didn't take any notes in this game, and Dave gave me the usual hard game I've come to expect. I lost both games here. As the runner, I took too long to get setup, though I thankfully didn't fall to his bluffed trap/small agenda (Dave was the only person I saw running 1 point agendas - Hostiles). Every dig into R&D gave me little to work with and Dave scored out before I could get anywhere.
With me playing Corp, dave managed to get all his economy up, and found the MVP of his deck - Scrubber. With this Dave pretty much deleted all of my econ from the word go, and waltzed through all my servers as I scrimped together what little credits I could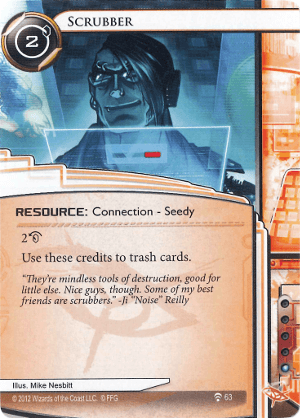 With 2 losses to Dave, I'm now at 2-2
Game One - Scott
Last game against Scott, and I took some notes again. Scott has gone for a big ice build, and seeing Wall of Thorns might normally have been a massive pain, if not for my trusty morningstar that I used a Test Run to dig out my stack. With medieval weapon swinging, I ran into R&D and through his remote server, pretty sure I managed to pickup an agenda at this stage. Unfortunately Scott responded in the worst possible manner, overwriting his R&D Wall of Thorns with a OAI'd Hadrians. This was going to be a massivel problem as I only had 1 personal touch, so I'd have to build money and pay through the nose for Crypsis. I installed MOpus, and took money ready for my next turn, where I went into R&D, smashed down Hadrian's Wall and access a Janus off the top. Not too worried now I only had a pop-up or something similar over R&D, I passed the turn ready to R&D dig to my hearts content. Scott graciously installed a new piece of ice over R&D, and OAI'd the Janus I had just seen. A few more turns of money making and ice smashing, saw me delete Janus, and snipe the last agenda I needed from the top of R&D. On to my corp!
My corp deck continued to setup consistantly, with a Data Raven over R&D, ice'd over HQ, and took a credit. Scott responded in the early game with a Data Sucker (Lucky bastard to see that in draft!), and plascrete carapace (Curses!). Knowing I would need to score out, I snuck out the Vitruvius early on, and later i scored a Nesei (not sure how I managed this, as I don't recall having a large scoring server! At hearing that I'd scored a Nesei, I heard a couple of appreciative comments from others around the table, and I got ready to either find my Beale to sneak out, or build a super server to score out Fetal/Prio Req. Unfortunately my plans were to be dashed, as where Scott went Tag Me, he used the opportunity to install a Data Leak Reversal. I drew up between Scott's mills, and Scott pulled Fetal out of Archives after he ditched it. My second to last turn ended up with me having 3 cards left in R&D, Corp Trouble Shooter, two prio reqs and two other cards in hand it looked like game over. I drew and found my Beale, installed it behind a Chimera, installed my Corp Trouble Shooter, and took a credit. Scott checked with me how many cards there were in R&D (2), and I prepared to mill. He took 6 credits off Opus however and ran my single ice'd agenda with his Crypsis. I rez'd the Chimera, and activated the troubleshooter to make it Strength 10 - out of range of Scott being able to break. I spent my last turn scoring out with Beale. It was one of those "Why didn't I do X" moments for Scott, as he would have automatically won if he had just milled two and took money, but I managed to pull the win.
End of the day left me on 4-2, and in second place behind Dave, who took the £25 prize. Scott won a bonus £10 prize, as he was voted the popular opponent of the day.
Wrapping Up
So I had a fantastic day drafting, and I'm really looking forward to playing more Draft format in the future. Have any of you played Draft so far? If so, would love to hear your experiences (Or better yet, when your local draft tournement will be
) .